Do not neglect to show hospitality to strangers, for thereby some have entertained angels unawares.
The St. Philip family would like to thank you for visiting and would like to take this opportunity to tell you a little more about us.
St. Philip is a welcoming space for all who enter our doors. Our traditional service encourages all to participate. Our music includes a variety of styles and genres–traditional and favorite hymns, spirituals, gospel, and more. Our congregation includes second, third, and fourth generation members who are diverse and loving.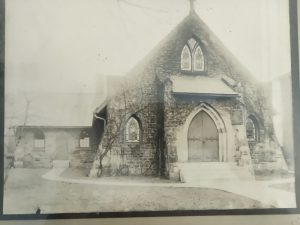 St. Philip Church has been a central part of the African American Episcopal tradition in Columbus and central Ohio for over 130 years. We were organized as a mission of Trinity Episcopal Church in the fall of 1891 as a place for the African American parishioners to worship. In 1903, St. Philip became a Diocesan Mission, then by action of the Diocesan Convention, the mission became a parish on February 1, 1923.
St. Philip resided in several locations on the East side before settling into its current building in 1962. On October 21, 1976, St. Philip held a mortgage burning service and The Right Rev. Roger Blanchard consecrated the building in November of that year.
In 2011 we broke ground to add additional meeting space as well as a permanent location for our food pantry and the addition was completed in 2015.
We continue to invest and serve in our community as members of a coalition of nearby churches, local civic groups, and with our several feeding ministries including our food pantry. Our church space is open to use by our members outside of services and church meetings, community organizations, and the community itself.
During the covid pandemic we effectively transitioned to online worship, meetings, and activities, as well as church school and other learning opportunities, enabling us to remain a strong community and to support one another. Even though we have returned to in person services we continue to maintain an online presence.
The St. Philip family would love to meet you in person at our Sunday services or via Zoom. Please come and join us so that we can learn more about you and you can learn more about us. Our services are child-friendly and we encourage you to worship as a family!
In need of pastoral care or good old-fashioned prayer or in need of support from our food pantry?
If you are in need of another type of support click here and our senior warden will be in contact with you.
Our facility is available for use – please learn more here.